Feb 22nd 2019 Bernadette Del Chiaro, Executive Director CalSSA
This bipartisan bill would:
Protect the right of all California consumers – homeowners, renters, farmers, schools, etc. – to generate, store and shape their own energy onsite without threat of undue influence or discriminatory behavior of local utilities;
Remove barriers to local solar and storage, and other DERs, through streamlining and simplifying interconnection processes statewide, and;
Remove barriers to stand-alone storage by requiring storage-only export tariffs be created statewide.
As you may have heard, CALSSA teamed up with the Solar Rights Alliance andVote Solar to pull together a broad coalition of solar farmers, solar schools, solar homeowners, disability rights advocates, workforce development organizations, environmental groups, and solar and storage businesses and workers to officially launch the Solar Bill of Rights on the steps of the state Capitol this week. You can watch the video of the entire press conference and you can read about the launch here.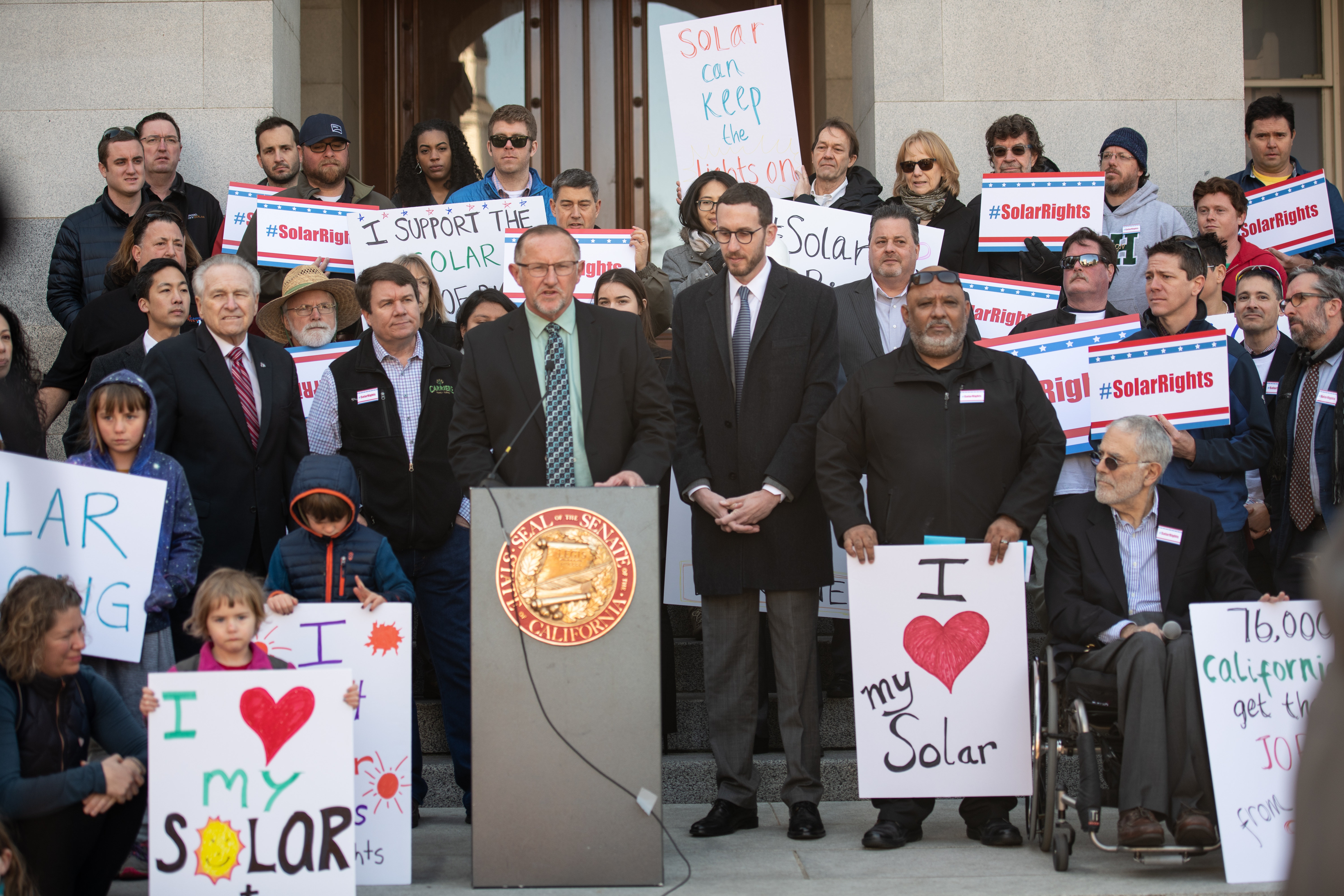 Many thanks to our member companies who answered the call to action and came out for the bill launch event: Aztec Solar, Canadian Solar, Capital City Solar, Chico Electric, Clean Solar, Engie, Grid Alternatives, JKB, Luminalt, Natron, Owen Dunn Insurance, SepiSolar, SMA, Solar Technologies, Sunrun, TerraVerde, and Vivint,

In addition to the crowded steps of the capitol backing the new bill, we have also garnered a bipartisan group of legislators as co-authors. In addition to our principal supports of Senator Wiener (D-SF) and Senator Nielsen (R-Gerber), SB 288 is also co-authored by Senator Jeff Stone (R-Riverside), and assembly members Gallagher (R-Chico), Friedman (D-Glendale), Bloom (D-Santa Monica), and R.Rivas (D-Hollister).

But we believe every legislator should support this bill. Please take a moment to email your local senator and assembly member and ask them to join this bipartisan and diverse group of legislators in co-authoring SB 288, the Solar Bill of Rights today! Click here to take action.
https://www.altsyssolar.com/wp-content/uploads/2016/09/Visalia-Solar-Service-Logo.png
0
0
Eric Sustaita
https://www.altsyssolar.com/wp-content/uploads/2016/09/Visalia-Solar-Service-Logo.png
Eric Sustaita
2019-02-22 12:53:10
2019-02-22 13:25:49
CA - SB 288 The Solar Bill of Rights